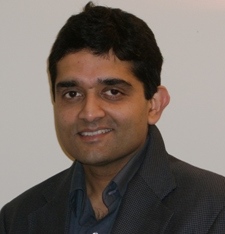 NARAYAN B. MANDAYAM
is a Distinguished Professor at Rutgers University. He received the B.Tech (Hons.) degree in 1989 from the Indian Institute of Technology, Kharagpur, and the M.S. and Ph.D. degrees in 1991 and 1994 from Rice University, Houston, TX, all in electrical engineering. From 1994 to 1996, he was a Research Associate at the Wireless Information Network Laboratory (WINLAB), Dept. of Electrical & Computer Engineering, Rutgers University. In September 1996, he joined the faculty of the ECE department at Rutgers where he became Associate Professor in 2001 and Professor in 2003. Currently, he also serves as Associate Director at WINLAB. He was a visiting faculty fellow in the Department of Electrical Engineering, Princeton University in Fall 2002 and a visiting faculty at the Indian Institute of Science in Spring 2003.
His research interests are in various aspects of wireless data transmission with emphasis on techniques for cognitive radio and software defined networks including their implications for spectrum policy. Using constructs from game theory, communications and networking, his work has focussed on system modeling and performance, signal processing as well as radio resource management for enabling wireless technologies to support various applications. He has also been working recently on aspects related to wireless backhaul, small cells, noncontiguous spectrum access, visual MIMO networks and the use of prospect theory in understanding the psychophysics of data pricing for wireless networks as well as the smart grid. Recent papers on these topics can be found here
Dr. Mandayam is a recipient of several awards, notably the 2015 IEEE Communications Society Award for Advances in Communications with C. Saraydar and D. Goodman for their seminal paper on power control for wireless data titled Efficient Power Control via Pricing in Wireless Data Networks; the 2014 IEEE Donald G. Fink Award with D. Raychaudhuri for their IEEE Proceedings paper titled Frontiers of Wireless and Mobile Communications; and the Fred W. Ellersick Prize from the IEEE Communications Society in 2009 along with O. Ileri for their work on dynamic spectrum access models and spectrum policy. He is also the recipient of the Peter D. Cherasia Faculty Scholar Award from Rutgers University (2010), the National Science Foundation CAREER Award in 1998, and the Institute Silver Medal from the Indian Institute of Technology, Kharagpur in 1989.
Dr. Mandayam has had the honor of being selected by the National Academy of Engineering for the NAKFI: Informed Brain in a Digital World Conference in 2012 and the Frontiers of Engineering Symposium in 1999. He is a coauthor of the books "Principles of Cognitive Radio," Cambridge and "Wireless Networks: Multiuser Detection in Cross-Layer Design," Springer. He has served as an Editor for the journals IEEE Communication Letters (1999-2002) and IEEE Transactions on Wireless Communications (2002-2004). He has served as a guest editor of the IEEE JSAC Special Issues on Adaptive, Spectrum Agile and Cognitive Radio Networks (2007) and Game Theory in Communication Systems (2008). He was elected Fellow of the IEEE for "contributions to wireless data transmission". He is currently serving as a Distinguished Lecturer of the IEEE Communications Society. He has introduced with R. Frenkiel a multidisciplinary undergraduate course on "strategic and systems-thinking" titled Forces and Strategies that Shaped the Wireless Revolution
Dr. Mandayam has been awarded an interdisciplinary NAKFI Grant to study the processes through which humans co-create silicon brains-- large and accessible repositories of knowledge. Here is a recent talk on using game theory to model social knowledge creation, specifically using Wikipedia as an example: Game Theoretic Modeling of Online Knowledge Creation in Wikipedia
Dr. Mandayam has been awarded a multidisciplinary NSF NeTS grant to study the role of prospect theory in understanding end-user behavior and wireless data pricing. More details on the project can be found here: End-User Behavior and Prospect Pricing in Wireless Data Networks
He can be reached at narayan AT winlab DoT rutgers DoT edu
Here are a few talks he has given recently
JOURNAL PAPERS
W. Saad, A. L. Glass, N. B. Mandayam and H. V. Poor
"Toward a Consumer-Centric Grid: A Behavioral Perspective"
Proceedings of the IEEE, vol. 104, No. 4, pp. 865-882, April 2016
Y. Yang, L. T. Park, N. B. Mandayam, I. Seskar, A. L. Glass, and N. Sinha
"Prospect Pricing in Cognitive Radio Networks"
IEEE Transactions on Cognitive Communications and Networking, vol. 1, No. 1, pp. 56-70, March 2015
L. Xiao, N. B. Mandayam and H. V. Poor
"Prospect Theoretic Analysis of Energy Exchange Among Microgrids"
IEEE Transactions on Smart Grid, vol. 6, No. 1, pp. 63-72, January 2015
N. Krishnan, R. D. Yates and N. B. Mandayam
"Uplink Linear Receivers for Multi-Cell Multiuser MIMO With Pilot Contamination: Large System Analysis"
IEEE Transactions on Wireless Communications, vol. 13, No. 8, pp. 4360-4373, August 2014
T. Li and N. B. Mandayam
"When Users Interfere with Protocols: Prospect Theory in Wireless Networks using Random Access and Data Pricing as an Example"
IEEE Transactions on Wireless Communications, vol. 13, No. 4, pp. 1888-1907, April 2014
T. Li, N. B. Mandayam and A. Reznik
"A Framework for Distributed Resource Allocation and Admission Control in a Cognitive Digital Home"
IEEE Transactions on Wireless Communications, vol. 12, No. 3, pp. 984-995, March 2013
T. Nishio, R. Shinkuma, T. Takahashi and N. B. Mandayam
"TXOP Exchange: A Mechanism for Cooperation in CSMA Networks"
IEICE Transactions on Communications, vol. E95-B, No. 6, pp. 1944-1952, June 2012
D. Raychaudhuri and N. B. Mandayam
"Frontiers of Wireless and Mobile Communications"
Proceedings of the IEEE, vol. 100, No. 4, pp. 824-840, April 2012 (winner of the IEEE Donald G. Fink Award)
N. Krishnan,R. Yates, N. B. Mandayam and J. Panchal
"Bandwidth Sharing for Relaying in Cellular Systems"
IEEE Transactions on Wireless Communications, vol. 11, No. 1, pp. 117-129, January 2012
D. Zhang and N. B. Mandayam
"Analyzing Random Network Coding with Differential Equations and Differential Inclusions"
IEEE Transactions on Information Theory, vol. 57, No. 12, pp. 7932-7949, December 2011
C. Raman, G. Foschini, R. Valenzuela, R. Yates and N. B. Mandayam
"Collaborative Half-Duplex Relaying in Downlink Cellular Systems"
IEEE Transactions on Wireless Communications, vol. 10, No. 5, pp. 1396-1404, May 2011
L. Sankar, Y. Liang, H. V. Poor, N. B. Mandayam
"Fading Multiple Access Relay Channels: Achievable Rates and Opportunistic Scheduling"
IEEE Transactions on Information Theory,vol. 57, No. 4, pp. 1911-1931, April 2011
D. Zhang, R. Shinkuma, N. B. Mandayam
"Bandwidth Exchange: An Energy Conserving Incentive Mechanism for Cooperation"
IEEE Transactions on Wireless Communications, vol. 9, No. 6, pp. 2055-2065, June 2010
C. Ye, S. Mathur, A. Reznik, Y. Shah, W. Trappe, N. B. Mandayam
"Information Theoretic Secret Key Generation for Fading Wireless Channels"
IEEE Transactions on Information Forensics & Security, vol. 5, No. 2, pp. 240-254, June 2010
C. Comaniciu, N. B. Mandayam, H. V. Poor, J. Gorce
"An Auctioning Mechanism for Green Radio"
Journal of Communication Networks, vol. 12, No. 2, pp.114-121, April 2010
C. Raman, G. Foschini, R. Valenzuela, R. Yates and N. B. Mandayam
"Collaborative Relaying in Downlink Cellular Systems"
Cooperative Cellular Wireless Networks, V. Bhargava, E. Hossain, D. I. Kim (Eds.), Cambridge University Press UK, 2010 (BOOK CHAPTER)
L. Xiao, L. Greenstein, N. B. Mandayam, and W. Trappe
"Channel-based spoofing detection in frequency-selective Rayleigh channels,"
IEEE Transactions on Wireless Communications, vol. 8, No. 12, pp. 5948-5956, December 2009
H. Liu, L. Razoumov, N. B. Mandayam, P. Spasojevic
"An Optimal Power Allocation Scheme for the STC Hybrid–ARQ over Energy Limited Networks"
IEEE Transactions on Wireless Communications, vol. 8, No. 12, pp. 5718-5722, December 2009
L. Sankar, N. B. Mandayam, H. V. Poor
"On the Sum Capacity of Degraded Gaussian Multiple Access Relay Channels"
IEEE Transactions on Information Theory, vol. 55, No. 12, pp. 5394-5411, December 2009
L. Xiao, L. Greenstein, N. Mandayam, and W. Trappe
"Channel-based detection of Sybil attacks in wireless networks,"
IEEE Transactions on Information Forensics & Security, vol. 4, No. 3, pp. 492-503, September, 2009
L. Xiao, L. J. Greenstein, N. B. Mandayam, and W. Trappe
"Channel-Based Authentication", in Securing Wireless Communications at the Physical Layer,
W. Trappe and R. Liu, (Eds.), Springer-Verlag New York, 2009 (BOOK CHAPTER)
Suhas Mathur, Lalitha Sankar and Narayan B. Mandayam
Coalitions in Cooperative Wireless Networks
IEEE Journal on Selected Areas in Communications, vol. 26 No. 7 pp. 1104-1115, September 2008
Liang Xiao, Larry Greenstein, Narayan B. Mandayam and Wade Trappe
Using the Physical Layer for Wireless Authentication in Time-Variant Channels
IEEE Transactions on Wireless Communications, vol. 7, No. 7, pp. 2571-2579, July 2008
Liang Xiao, Larry Greenstein, Narayan B. Mandayam and Shalini Periyalwar
Distributed Measurements for Estimating and Updating Cellular System Performance
IEEE Transactions on Communications, vol. 7, No. 6, pp. 991-998, 2008
Omer Ileri and Narayan B. Mandayam
Dynamic Spectrum Access Models: Toward an Engineering Perspective in the Spectrum Debate

(Spectrum Policy Paper)


IEEE Communications Magazine, vol. 46 No. 1 pp. 153-160, January 2008 (winner of the Fred Ellersick Prize)
Liang Xiao, Larry Greenstein, Narayan B. Mandayam and Shalini Periyalwar
Sensor-Assisted Localization in Cellular Systems
IEEE Transactions on Wireless Communications, vol. 6, No. 12, pp. 4244-4248 December 2008
Lalitha Sankar, Gerhard Kramer and Narayan B. Mandayam
Offset Encoding for Multiple Access Relay Channels
IEEE Transactions on Information Theory, vol. 53 No. 10 pp. 3814-3821, October 2007
Dragan Samardzija and Narayan B. Mandayam
Impact of Pilot Design on Achievable Rates in Multiple Antenna Multiuser TDD Systems
IEEE Journal on Selected Areas in Communications, vol. 25 No. 7 pp. 1370-1379, September 2007
Dragan Samardzija and Narayan B. Mandayam
Unquantized and Uncoded Channel State Information Feedback in Multiple Antenna Multiuser Systems
IEEE Transactions on Communications, vol. 54 No. 7 pp. 1335-1345, July 2006
Farhad Meshkati, H. Vincent Poor, Stuart C. Schwartz and Narayan B. Mandayam
An Energy-Efficient Approach to Power Control and Receiver Design in Wireless Data Networks
IEEE Trans. on Communications on Communications, November 2005
Nan Feng, Siun-Chuon Mau and Narayan B. Mandayam
Joint User-centric and Network-centric Radio Resource Management in a Multicell System
IEEE Trans. on Communications, vol. 53, No. 7, pp. 1114-1118B , July 2005
Andrej Domazetovic, Larry J. Greenstein, Narayan B. Mandayam and Ivan Seskar
Propagation Models for Short Range Wireless Channels with Predictable Path Geometries
IEEE Transactions on Communications, vol. 53, No. 7, pp. 1123-1126, July 2005
Dragan Samardzija, Narayan B. Mandayam and Dmitry Chizik
Transmitter Optimization in Multiuser Multiantenna Systems: Theoretical Limits, Effect of Delays and Performance Enhancements
EURASIP Journal on Wireless Communications and Networking, Special Issue on Reconfigurable Radio for Future Generation Wireless Systems, Issue No. 3, 2005
Heng Wang and Narayan B. Mandayam
Opportunistic File Transfers over Fading Channels under Energy and Delay Constraints
IEEE Trans. on Communications, vol. 53, No. 4, pp. 632-644, April 2005
Jie Lai and Narayan B. Mandayam
Performance of Turbo Coded WCDMA with Downlink Space Time Block CodingB in Correlated Fading Channels
IEEE Trans. on Wireless Communications, vol. 4, No. 2, pp. 802-807, March 2005
Omer Ileri, Siun-Chuon Mau and Narayan B. Mandayam
Pricing for Enabling Forwarding in Self-Configuring Ad hoc Networks
IEEE JSAC, Special Issue on Wireless Ad Hoc Networks, vol. 23, No. 1, pp. 151-162, January 2005
Nan Feng, Siun-Chuon Mau and Narayan B. Mandayam
Pricing and Power Control for Joint User-centric and Network-centric Resource Allocation
IEEE Trans. on Communications, vol. 52, No. 9, pp. 1547-1557, September 2004
Heng Wang and Narayan B. Mandayam
A Simple Packet Scheduling Scheme for Wireless Data over Fading Channels
IEEE Trans. on Communications, vol. 52, pp. 1055-1059, July 2004
Dragan Samardzija and Narayan B. Mandayam
Pilot Assisted Estimation of MIMO Fading Channel Response and Achievable Data Rates
IEEE Trans. on Signal Processing, vol. 51, pp. 2882-2890, November 2003
Jie Lai and Narayan B. Mandayam
Performance Analysis of Convolutionally Coded DS-CDMA Systems with Spatial and Temporal Channel Correlations
IEEE Trans. on Communications, vol. 51, N0. 12, pp. 1984-1990, December 2003
Andrej Domazetovic, Larry J. Greenstein, Narayan B. Mandayam and Ivan Seskar
Estimating the Doppler Spectrum of a Short Range Fixed Wireless Channel
IEEE Communications Letters, vol. 7, No. 2, pp. 227-229, May 2003
Cristina Comaniciu, NarayanB Mandayam, David Famolari and Prathima Agrawal
Wireless Access to the World Wide Web in an Integrated CDMA System
IEEE Transcations on Wireless Communications, vol. 2, No. 3, pp. 472-483, May 2003
Dragan Samardzija and Narayan B. Mandayam and Ivan Seskar
Blind Successive Interference Cancellation for CDMA Systems
IEEE Trans. on Communications, vol. 50, No. 2, pp. 276-290, February 2002
Cem Saraydar and Narayan B. Mandayam and David J. Goodman
Efficient Power Control via Pricing in Wireless Data Networks
IEEE Trans. on Communications, vol. 50, No. 2, pp. 291-303, February 2002
Dragan Samardzija and Narayan B. Mandayam and Ivan Seskar
Multistage Nonlinear Interference Cancellation for DS-CDMA Systems
Journal of VLSI Processing, vol. 30, pp. 257-271, 2002
Lei Song and Narayan B. Mandayam
Hierarchical SIR and Rate Control on the Forward Link for CDMA Data Users under Delay and Error Constraints
IEEE JSAC, vol. 19, No. 10, pp. 1871-1882, OctoberB 2001
Cem Saraydar and Narayan B. Mandayam and David Goodman
Pricing and Power Control in a Multicell Wireless Data Network
IEEE JSAC, vol. 19, No. 10, pp. 1883-1892, OctoberB 2001
Jie Lai and Narayan B. Mandayam
Minimum Duration Outages for Cellular Systems with Rayleigh Fading
IEEE Transactions on Communications, vol. 49, No. 10, pp. 1755-1761, October 2001
Lei Song and Narayan B. Mandayam and Zoran Gajic
Analysis of an Up/Down Power Control Algorithm for the CDMA Reverse Link under Fading
IEEE JSAC Wireless Series, vol. 19, No. 2, pp. 277-286, February 2001
Jie Lai and Narayan B. Mandayam
Performance of Reed-Solomon Codes for Hybrid-ARQ over Rayleigh Fading Channels under Imperfect Interleaving
IEEE Trans. on Communications, vol. 48, No. 10, pp. 1650-1659, October 2000
David J. Goodman and Narayan B. Mandayam
Network Assisted Power Control for Wireless Data
Mobile Networks & Applications, vol. 6, No. 5, pp. 409-415, 2001
Deepa Ramakrishna, Narayan B. Mandayam and Roy D. Yates
Subspace Based Estimation of the Signal-to-Interference Ratio for CDMA Cellular Systems
IEEE Transactions on Vehicular Technology, vol. 49, No. 5, pp. 1732-1742, 2000
Roy D. Yates and Narayan B. Mandayam
Challenges in Low-Cost Wireless Data Transmission
IEEE Signal Processing Magazine, vol. 17, No. 3, pp. 93-102, May 2000
David J. Goodman and Narayan B. Mandayam
Power Control for Wireless Data
IEEE Personal Communications, vol. 7, No. 2, pp. 48-54, April 2000
Cristina Comaniciu and Narayan B. Mandayam
Delta Modulation based Prediction for Access Control in Integrated Voice/Data CDMA Systems
IEEE Journal on Selected Areas in Communications, vol. 18, No. 1, pp. 112-122, Jan 2000
Ivan Seskar and Narayan B. Mandayam
Software Defined Radio Architectures for Interference Cancellation in DS-CDMA Systems
(Invited paper) IEEE Personal Communications, vol. 6, No. 4, pp. August 1999
David Famolari, Narayan B. Mandayam, David Goodman and Viral Shah
A New Framework for Power Control in Wireless Data Networks: Games, Utility and Pricing
WIRELESS MULTIMEDIA NETWORK TECHNOLOGIES, Kluwer Academic Publishers, Editors:Ganesh, Pahlavan, Zvonar, pp. 289-310, 1999
Zhuyu Lei, Cem Saraydar and Narayan B. Mandayam
Paging Area Optimization by Interval Estimation for Wireless Personal Communication Networks
Mobile Networks and Applications, 5 (2000), 1, Special Issue on Mobile Data Networks: Advanced Technologies and Services, pp. 85-99, 2000
Ivan Seskar and Narayan B. Mandayam
A Software Radio Architecture for Linear Multiuser Detection
IEEE Journal on Selected Areas in Communications, vol. 17, no. 5, pp. 814-823, May 1999
O. E. Kelly, J. Lai, N. B. Mandayam, A. T. Ogielski, J. Panchal and R. D. Yates
Scalable Parallel Simulations of Wireless Networks with WIPPET: Modeling of Radio Propagation, Mobility and Protocols
Mobile Networks and Applications, 5 (2000), pp. 199-208, 2000
Mohammad Saquib, Roy D. Yates and Narayan B. Mandayam
Decorrelating Detectors for a Dual Rate Synchronous DS/CDMA Channel
Wireless Personal Communications, vol. 9, No. 3, pp. 197-216, 1999
Ivan Seskar, Narayan B. Mandayam and Paul Hatrack
Reconfigurable Testbed for Interference Cancellation in DS-CDMA Systems
International Journal of Wireless Information Networks, vol. 6, No. 1, pp. 37-48, 1999
Narayan B. Mandayam, P.C. Chen and Jack Holtzman
Minimum Duration Outage for CDMA Cellular Systems : A Level Crossing Analysis
Wireless Personal Communications, vol. 7, No. 2/3, pp. 135-146, August 1998
Mohammad Saquib, Roy D. Yates and Narayan B. Mandayam
A Decision Feedback Decorrelator for a Dual Rate Synchronous DS/CDMA System
Wireless Networks, vol. 4, No. 6, pp. 497-506, 1998
Michael Andersin, Narayan B. Mandayam and Roy D. Yates
Subspace based SIR Estimation for TDMA Cellular Systems
Wireless Networks, vol. 4, No. 3, pp. 241-247, 1998
J. Panchal, O. E. Kelly, J. Lai, N. B. Mandayam, A. T. Ogielski and R. D. Yates
Parallel Simulations of Wireless Networks with TeD: Radio Propagation, Mobility and Protocols
Performance Evaluation Review, ACM Sigmetrics, vol. 25, No. 4, pp. 30-39, March, 1998
Narayan B. Mandayam, Jack Holtzman and Sergio Barberis
Performance and Capacity of a Voice/Data CDMA System with Variable Bit Rate Sources
Insights into Mobile Multimedia Communications, Academic Press Inc., 1998, pp. 537-550
Narayan B. Mandayam and Sergio Verdu
Analysis of an Approximate Decorrelating Detector
Wireless Personal Communications, vol. 6, No. 1/2, pp. 97-111, January, 1998
Narayan B. Mandayam and Behnaam Aazhang
Gradient Estimation for Sensitivity Analysis and Adaptive Multiuser Interference Rejection in Code Division Multiple Access Systems
IEEE Trans. on Communications, vol. 45, pp. 848-858, July, 1997
Narayan B. Mandayam and Behnaam Aazhang
Gradient Estimation for Stochastic Optimization of Optical Code Division Multiple Access Systems: Part I - Generalized Sensitivity Analysis
IEEE Journal on Selected Areas in Communications, vol. 15, pp. 731-741, May, 1997
Narayan B. Mandayam and Behnaam Aazhang
Gradient Estimation for Stochastic Optimization of Optical Code Division Multiple Access Systems: Part II - Adaptive Detection
IEEE Journal on Selected Areas in Communications, vol. 15, pp. 742-750, May, 1997
Narayan B. Mandayam and Behnaam Aazhang
Importance Sampling for Analysis of Direct Detection Optical Communication Systems
IEEE Trans. on Communications, vol. 43, pp. 229-239, February, 1995