Research:
A Different Type of Cellular Communication: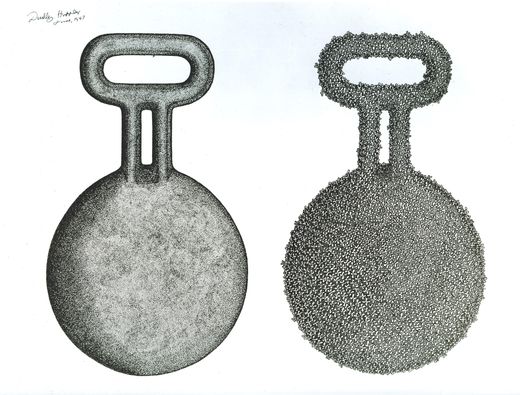 After submitting a proposal on communication theory in biological systems to the NSF CDI competition, I stumbled across this neat drawing at the Museum of Modern Art in New York City. The title is Art and Nature, and the artist is Dudley Huppler. My interpretation? Science is crisp and neat. Nature is messy, composed of myriad inter-communicating actors. Yet and still, organization not only emerges but is uncannily repeatable despite the plethora of insults hurled at biological systems by the world. The nature of the implicit

reliable

code-to-structure/function transformation is one of the "big questions" in biology. (The ever-popular "

Are we alone?

" is another one -- next column over

.)

A muse on whither structure/function by Nobelist Paul Nurse (pdf, local pdf) appears as a recent

Nature

"Horizons" article, Life, Logic and Information. The gist? We need to better understand information flow in biological systems -- which is exactly the topic of the proposal, though we're quite a

bit

more literal! (pun intended

)

My partner in crime for this research is Saira Mian, a broadly knowledgeable computational biologist at Lawrence Berkeley National Labs. Our hope for this work is that there are coding, channel, network and rate distortion theorems in there somewhere -- perhaps even transcending biological systems since at heart everything is a network of inter-communicating actors.

9/1/2008: The proposal has been funded! Here are the reviews (with which I very much agree in almost all aspects).

Thank you panelists whoever you are!

Your encouragement (and suggestions/warnings) are duly noted and greatly appreciated. We vacillate between exhilaration and professional terror -- not a bad thing! Nothing ventured, nothing gained.

12/12/2009: Update -- a pivotal, but devilish problem is beating us about the head and face. However, we sense it's tiring out.



1/5/2010: NY Times profile of Mina Bissell and her work on the relationship between tissue architecture and cancer. Mina's work is what captivated me a few years back. Those genotypically malignant cells that stay quiet in normal tissue somehow

know

when they reside in a normal architecture and when they do not. This is an important (and new) communication problem if ever there was one.

5/3/2010: Mina Bissell elected to NAS!!!! Stockholm next!



7/29/2010: Here's an animation of (one aspect of) the molecular communication problem courtesy of Ruochen Song.

10/16/2010:

Living things are so beautiful and precise that there must be a mathematics that describes them. Information theory is that mathematics

. Tom Schneider, NIH

Publication Trickle

---
Adinkras


The following "summary slide" that ties together the above threads from biology to fundamental descriptions of the universe lies somewhere between profound and ludicrous, but it's so much fun I decided to post it here anyway: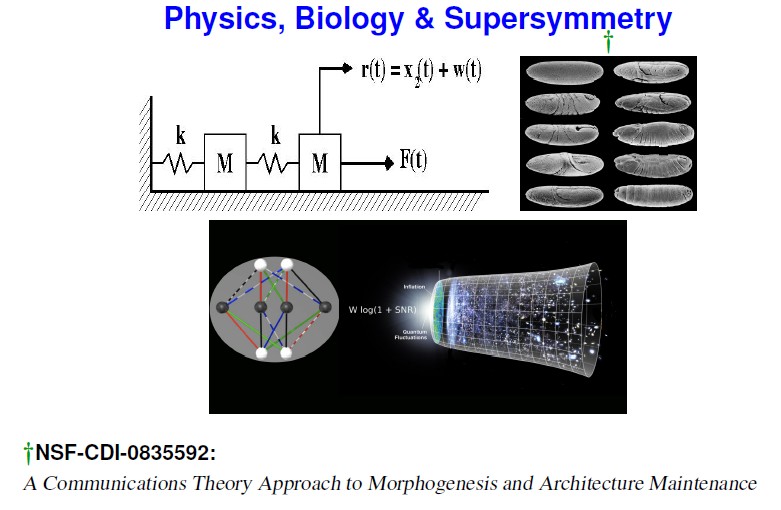 Here's a fun talk I gave at ITA'13. Post-talk comments make me think it's time to write a summary/tutorial paper to incite the roiling masses of young communication theorists and reinvigorate (overthrow!) the technical status quo!
---

My Precious Students

Interference Avoidance

Opportunistic Communications

Spectrum Server
(see also R. Yates' page)

Contentious Spectrum Management

Genetic Algorithms and Spectrum Sharing (DySpan'05)

Ultra-Blogging: I've been toying (since at least 2003 starting with an un-responded-to letter to William Safire of the NY Times and following up with an extremely weak talk I gave at Google in 2006

) with the idea of doing research on the implications of the fact that soon, everything will be recorded and very little will be private. Think of Microsoft's My Life Bits but with the ability to share and search over the Internet. As a simple example of what's coming, the following candid photo was taken in Brazil at MWCN'01. I had no idea the photo existed until a Google search on my name turned it up (the site has since disappeared -- how fleeting fame!

). However, imagine if zillions of these sorts of candid moments (including audio) could be uploaded wirelessly, correlated, indexed and searched by a Super-Google over the web. Assuming symmetry of access and information accountability (with the possibility of information hiding by loggers -- or e-chroniclers), I'm not sure that loss of public privacy is such a bad idea. But it does give one pause to think that every public (and many an ostensibly private) moment could be subject to public scrutiny. Nonetheless, I see this not as "Big Brother" but more as "Everything In The Light Of Day" a la Rodney King where the watched can watch the watchers. Steve Mann at the University of Toronto has coined the rather neat term sousveillance for this sort of system (as opposed to SURveillance).

Public Service
I recently submitted an NSF proposal which was declined, but I thought the reviews were especially helpful. As it is with these things, we often feel the reviewer might possibly have missed the point (see comment about characterizing moving foliage on trees being infeasible -- I AGREE, but if so, that still tells you something about the channel estimation problem

). However, objectively speaking, the reviewer might also be pointing out that I missed the point -- the practicality of the approach might be nil for most real-world systems -- but still offered helpful suggestions, I thought.

Anyone who wants to run with (or deride) the idea is welcome to do so. I'm thinking I'll post all proposals and subsequent reviews here as a public service (maybe particularly helpful to new faculty if only as an example of what not to do if you want to get funded

).
How Well Can We Know a MIMO Channel?
Reviews of bounced proposal

Just TOO COOL!
Here's one of my FAVORITE Nova segments on an up and coming ex-M.I.T. engineer named James McLurkin when he was a "kid". He's now a rising star at Rice. Yes, an engineer can truly have it all!
Nature Magazine Cover Story
Cosmic Communications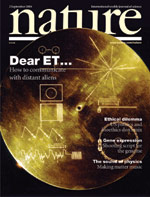 Caroline Angelo's cartoon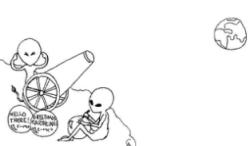 Project OZMA at 50 Workshop



Science Fiction




Michael Crichton

weighs in via The Andromeda Strain


(pp. 222-225, courtesy, Rich Howard)


Radio Astronomy

National Radio Astronomy Observatory
(facebook link)

NRAO Ozma at 50 Workshop

The SETI Institute

---
Undergraduate Projects
Mount a cheap directional antenna to a mobile platform, add ultrasonic sensors and student ingenuity and what to you get? Pure design delight! Here's the project report.
Check it out in action on YouTube!
---
USEFUL FOR SESSION CHAIRS!!!